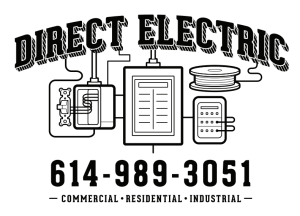 CALL 614-989-3051
2001 Courtright Rd., Columbus, Ohio, 43232
Open Monday though Friday 8AM – 5PM
All major credit cards accepted.
Professional Electrician in Columbus Ohio
Modern society, with its emphasis on fast-paced work and connectivity, needs reliable electricity to function properly; this is only possible with an experienced and professional electrician. If you're looking for a skilled master electrician in Columbus, Ohio, look no further than Direct Electric LLC. Contact us today at (614) 989-3051 for more information and a free estimate.
For All your Electrical Needs
Commercial, Residential, and Industrial
Troubleshooting, custom homes, service upgrades, generator installs, exit & emergency light maintenance, remodels, data cabling, airline installs, air conditioner cages, parking light installs and repair, Spas-HVAC Wiring-220 Volt Lines, New Construction, Additions Lighting Interior and Exterior, Ceiling Fans, Repairs, G.F.I.'s Code Corrections Service Changes,. Transformers, Security Lighting, Rewiring, Specialty Receptacles, ballast Replacing, also provides fire, flood (or other calamity) restoration services
Fully Licensed, bonded, and insured
Lic# 12992
Residential Electricians
Whether you're struggling with a tripping breaker or just want to install a new ceiling fan, our residential electrical services division has the solution to your problem. Ensure the addition to your home has exactly the right outlet and switch placement; our electricians work with contractors to create a home wiring system that's fully integrated into your home. We also provide inspection and tagging services, design your lighting to ensure your system is as efficient as possible, and work with restoration companies to repair your home after a lightning strike or other storm damage. Leave your home's electrical wiring safely in the hands of the best electricians in Columbus, Ohio.
Generac™ Generator Sales
Power outages are inconvenient for homeowners and business owners alike—but not when you install one of our trusty Generac™ generators. Our generator sales division offers automatic standby units, appropriate for homes and businesses up to 20,000 square feet. You can count on our generators to start operating just ten seconds after the power goes out. Your lights, instead of going off, will just flicker briefly, and you'll be able to continue your life uninterrupted.
Commercial Electrical Contractors
Are you constructing a new facility and need a reliable contractor to install your wiring? Or do you just need a few lights replaced? No matter the job, Direct Electric LLC is the contractor to call. Our electricians have completed wiring projects and commercial lighting installation small businesses , warehouse rehabs, parking lot light. We also offer professional lighting design services. Contact us at (614)989-3051 to get a free quote and learn more about our commercial services.
New Home and Office Builds
Let us take some of the stress out of building your new home or office by installing an efficient, reliable electrical system in your new build. Each system we install is carefully tailored to the owner's needs. Your satisfaction is paramount, so we discuss each outlet and switch placement with you before we begin the installation process. You want your new home or office to be perfect, and so do we.
Dependable and Trustworthy
Founded in 1972, Direct Electric LLC. has a long history of providing excellent care for its customers and clients. If you're looking for a professional and trusted electrician, Direct Electric LLC serves Columbus, New Albany, Westerville, Dublin, Pickerington and central Ohio areas with electrical contractor services, electrical wiring, commercial electric, and generator sales and service. Call Direct Electric LLC today at (614) 989-3051 to learn more about any of our services or for referrals: we're happy to provide references! We look forward to serving you.